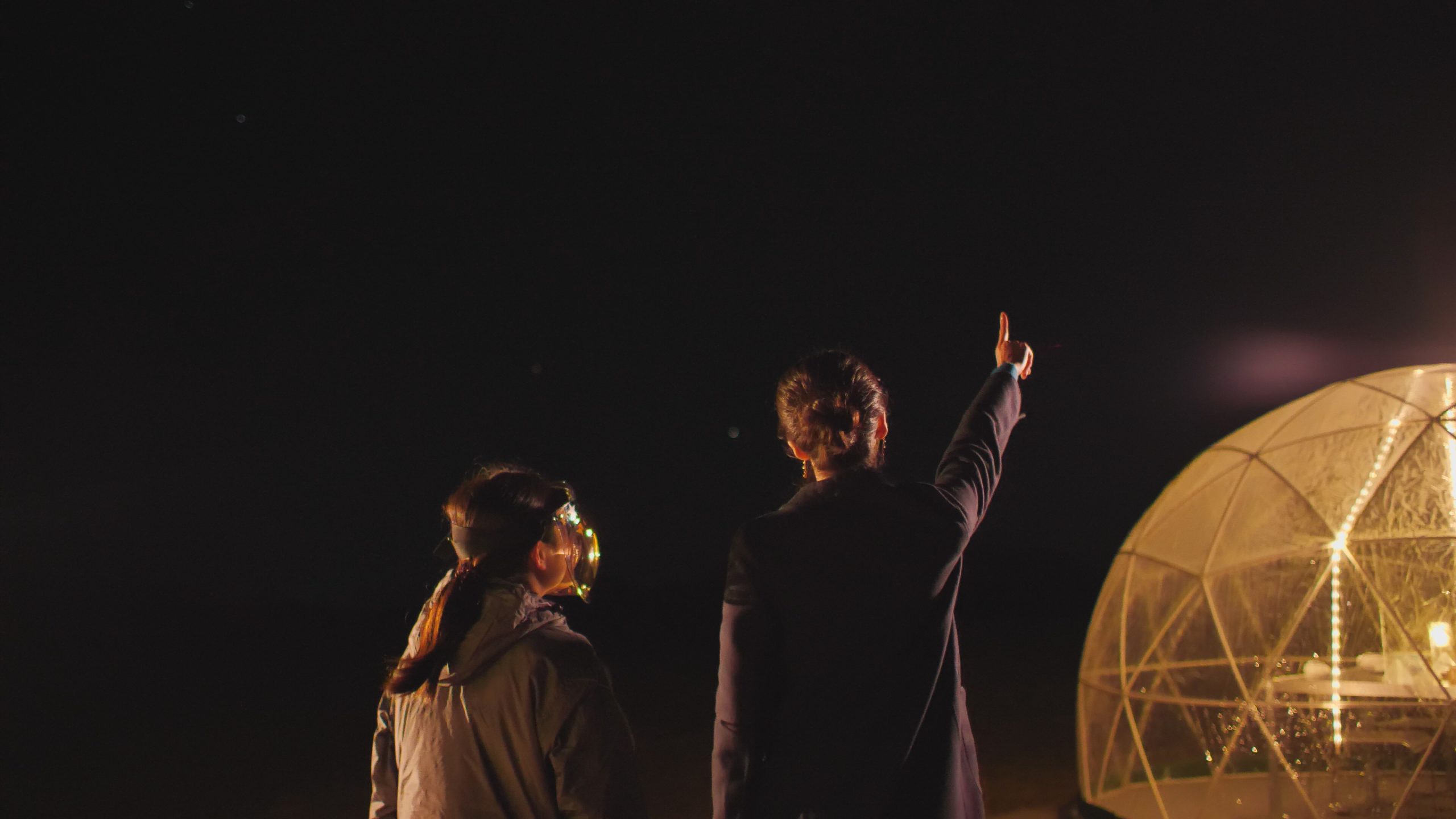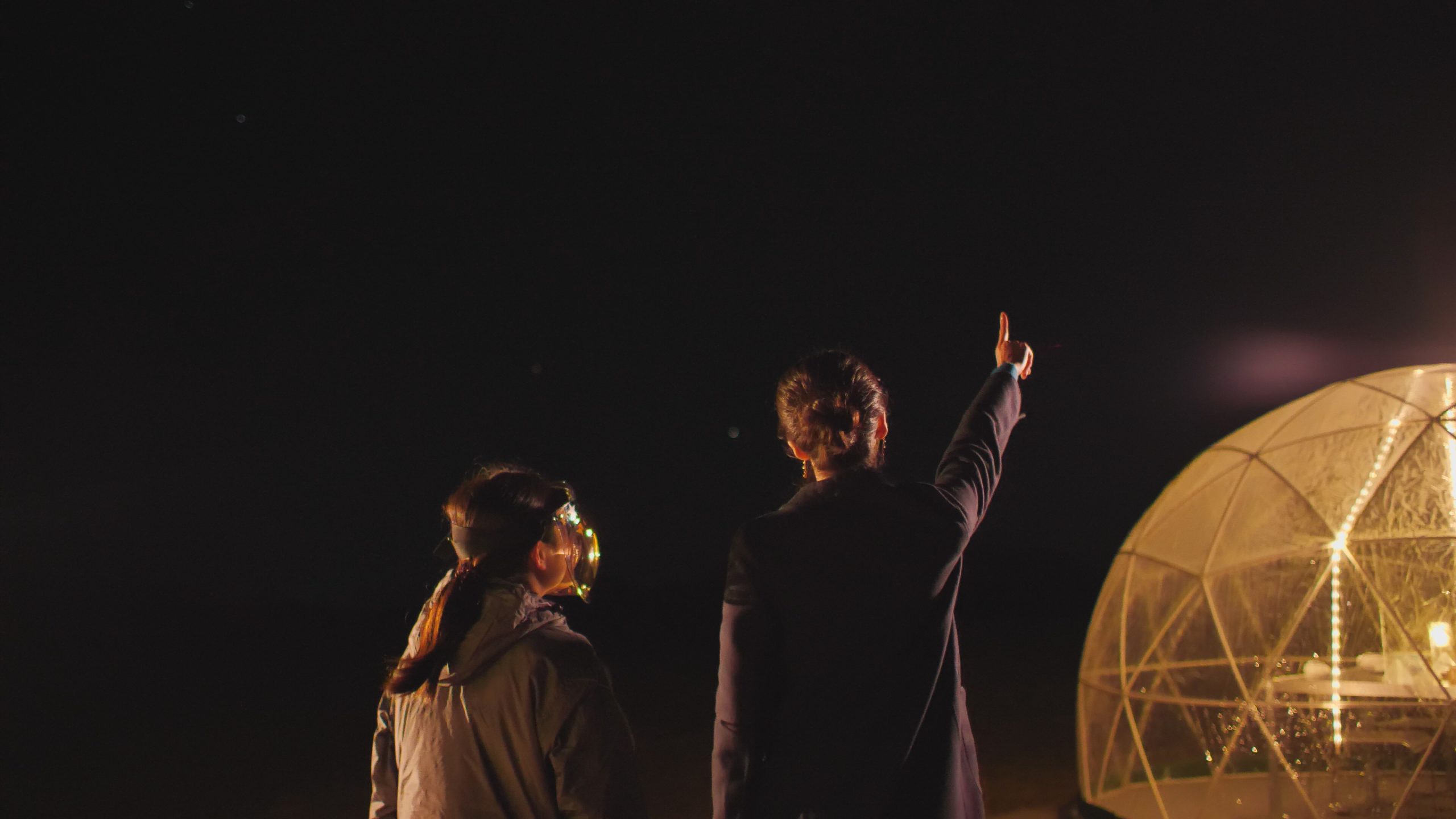 Hoshitori Star Night Event Report
Hoshitori Star Night "Night Session" Start!
When the sun went down and the dunes were engulfed in darkness, the Hoshitori Star Night "Night Program" began. The night part was a two-part program from 17:00 and 20:00. Both times' reservations were fully booked. Most of the participants were family members, friends, and couples living in Tottori prefecture. We measured guests' temperature to prevent the spread of infectious diseases, and presented them with original Hoshitori Star Night masks.
Participants who completed the reception followed a road illuminated by candlelight, passed a small hill and headed for the sand dunes of the venue. At the venue, a transparent hemi-spherical dome, called the Star Night Dome, which was set up for this event, was set up on the sand. The scene was as mysterious as a star shining in the dark.
This time, as it was part of the new tourism campaign of the Japan Tourism Agency, all the guidance was given through a monitor installed in the dome so that it would be contactless. Staff who provided the minimal customer service wore suits and face shields imitating space suits.
After arriving at the dome, it was time to eat. On a desk installed in the dome, dinner course dishes of "Sora Gourmet ®" devised for Hoshitori Star Night were laid out, and the participants enjoyed the beautiful Sora Gourmet.
* Sora Gourmet is a registered trademark of the Sora Tourism Promotion Council.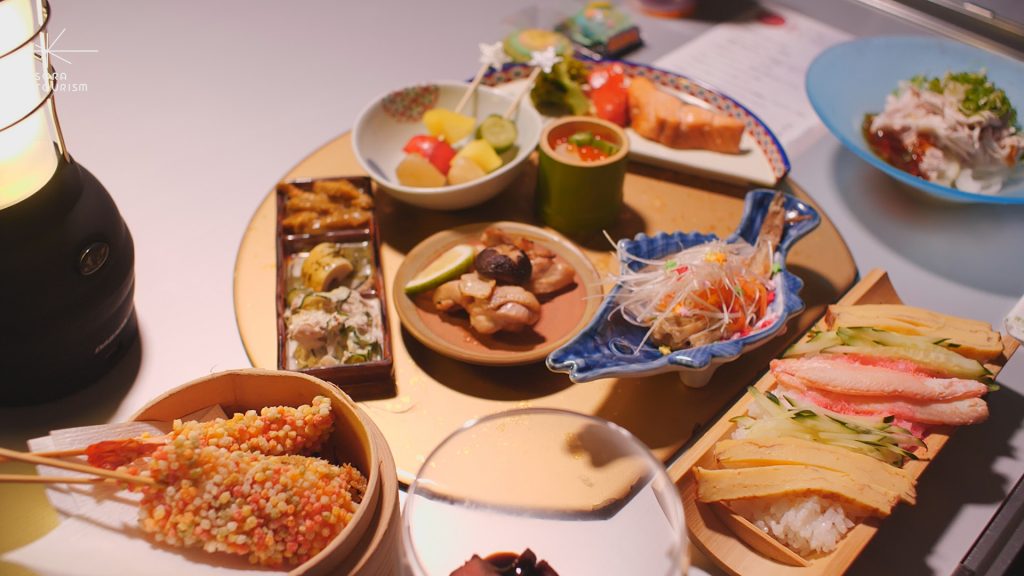 Sora Gourmet Using Tottori Ingredients
Sora Gourmet ® is a cuisine that uses the motif of the universe and comprises ingredients from the Earth. Under the supervision of the Kirin Town Tourism Bureau, a dinner course using local Tottori ingredients was offered. At the event, Mr. Hideki Ueta, the representative of the Tottori Information and Culture Research Institute, who supervised the cooking, introduced the food. Mr. Ueta usually produces events that utilize the local food culture, climate and resources, various revitalization projects, publication editing, and product development.
A total of 13 items of "arrangement," "vessel," and "device" that enable guests to enjoy Tottori's food culture while having a special feeling reminiscent of "SORA", and 2 confectionery items were offered. In order to create a story that connects each item to "SORA" as a dish served in a special space, the dishes, ingredients, cooking methods, production, etc. that are different from an ordinary menu were created. The chef of "Tottori Daizen", who also serves as a cooking class instructor at a popular local restaurant, also came up with ideas and thoughts about naming. In particular, the two chefs focused on how to achieve a "sea of clouds" and "three kinds"; how to select the ingredients; and how to make the dishes interesting, including the production. The selection of dishes has become a dinner course that has been carefully selected over time.
Related Posts